By Jun Wang
Michelle's Pancake
Location: 706 W Las Tunas Dr. B3, San Gabriel, CA 91776
Phone: 626-293-8098
Offers: Dine-in, Take-out
Cuisine: Northern Chinese Cuisine
Signature Dishes: Beef Pancake, Leeks Pancake, Beef Roll Cake
Year of Establishment: 2009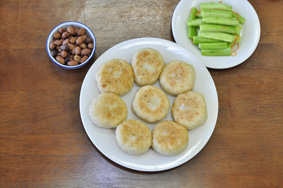 Claiming to be the first restaurant to be named after Chinese pancakes, Michelle's Pancake, nestled in an unassuming San Gabriel Valley mini-mall, is undoubtedly the best Chinese pancake shop in Southern California. Opening just last year, it has already received extensive media attention—including from the Los Angeles Times, Pasadena Star News and San Marino Tribune.
This restaurant distinguishes itself from other Chinese restaurants by offering creative and unique northern Chinese style pancakes. But like many other great restaurants, it is still dedicated to providing healthy and great tasting dishes made from the freshest ingredients possible.
Americans who haven't been to North China probably don't know that Northern Chinese have a more wheat-based diet than those down South. Instead of rice dishes you will often see noodles or Chinese pancakes on an average Northern Chinese family's dinner table. What kind of pancakes can you order at Michelle's Pancake? You'll find yummy pancakes, but they won't be the usual Western creations most people are used to. Maybe that's why so many people stop by this little pancake establishment.
At Michelle's Pancake, you are presented with a simple menu with around 50 items. Start your meal with an order of pancakes, which is just one of the many wheat-based traditional offerings available at the restaurant. The pancake stuffing varies, ranging from beef, chicken and pork to vegetables like leek, zucchini and radish. Beef Pancake and Leek Pancake are what most of the customers come for.

Michelle's pancakes are a little different from others—instead of a pancake drenched with maple syrup you'll find a small pancake with crisp and yeast-leavened skin filled with delicious stuffing. The Beef Pancake ($6.95) is approached with a special twist. Rather than the usual stuffing, such as scallion, Michelle makes her own special version, with onion and carrot as the main ingredients. When biting into the savory pancake, a gush of juicy broth will spurt out if you don't take a nibble at the thin skin at first.
There are more surprises for those willing to go further on their culinary expedition. The Leek Pancake ($6.95) is one of the more adventuresome dishes. It is filled with chopped shrimp, egg, leek and noodles, reminding many of a giant fried dumpling, yet with a different kick.
The Beef Roll Cake ($6.95) is a Northern Chinese dish that may vaguely remind you of KFC's Mexican Twister. The fillings are saturated in rich and juicy broth. With tender slices of beef tendon that have been sprinkled with scallion and parsley shreds, then pasted with duck sauce, this is one of the restaurant's can't-miss dishes.
The portions are generous; an order of pancakes usually has eight pieces, more than enough for anyone to indulge in a delicious and filling gourmet adventure.
The continuous commitment to providing fresh, healthy and quality offerings is evident everywhere at Michelle's. The note taped on the glass window and the menu both read, "No MSG, 100% handmade product, low oil, salt, thinner wrapping skin and more juicy filling." This is a clear proof that the owner places a lot of emphasis on making sure that the restaurant's offerings are healthy.
To keep the ingredients fresh, Michelle makes daily visits to a nearby vegetable market to purchase ingredients before heading back to the restaurant to continue with the day's work. In addition, she is detail oriented, allowing her to make minute changes to items when she feels they can be improved. She chooses the best quality ingredients available, believing that they are an integral part of any delicious meal.
When stepping into Michelle's Pancake you'll hear phones ringing and might have to wait a bit to get a seat as the restaurant is usually full during peak hours. Michelle's Pancake has been able to overcome a less than ideal location and the recent economic downturn because of its unique food offerings and exceptional service. Business increased slowly as more and more people found out about the restaurant but the biggest increase came after it was featured in the Los Angeles Times. That coverage brought in a number of people from not just around San Gabriel, but all of the LA metro area and beyond.
Every good restaurant has a knowledgeable and hard working owner behind the scenes. Raised in Fushun, Liaoning Province in China, Michelle Li has prior restaurant ownership experience. Before opening Michelle's Pancake, she owned a 300,000 square foot multi-functional upscale restaurant which also featured a spa and entertainment area. It was a behemoth compared to Michelle's Pancake but Michelle is still happy with her decision to open a new smaller restaurant because it helps her get closer to her customers.
"I'm very grateful for all the chances that I have received here in America. People here are very helpful and have been very kind to me. I love being around people, and I appreciate their love for my food," says Michelle, "I'll try my best to continue to offer them more tasty offerings."
An active member of the community, Michelle often gives back to the community by providing food to certain organizations or needy people. Last year, she contributed to educational causes by giving out 200 food vouchers and also volunteering to make 450 beef pancakes at the annual Pancake Festival.
"We've been able to accomplish so much only because of the support of my friends and customers. Without them none of this would be possible," says Michelle.
Michelle is an ambitious and pleasant woman who runs a tight ship. Through her efforts it has quickly become one of the premier destinations for Northern Chinese cuisine in all of California.

Message from the Owner
My father told me," If you're doing something, try to be the best at it. If you don't work hard, you can't make it to the top and become successful." This statement reminds me to put my all into my restaurant everyday and to approach every problem with the knowledge that I am able to solve it.