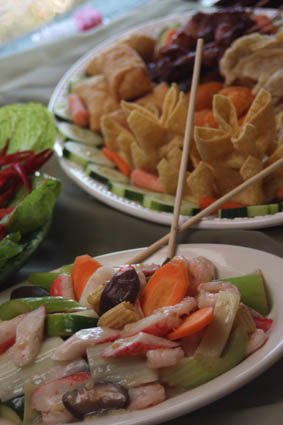 Located in Southwest Oklahoma, the city of Lawton is known for being a great place to start a business and is also a popular vacation destination. It is home to the second largest military base in the US and lies just over 70 miles away from Oklahoma City. Wichita Mountains National Wildlife Refuge, which attracts tens of thousands of visitors each year, is located to its north and west.
Golden China Buffet also calls Lawton home. Like the nearby wildlife refuge, it is quite large. Offering 10,000 square feet of dining space, the restaurant can comfortably seat up to 300 people. The history of this outstanding buffet dates back to 1998 when it first opened. At that time it was the first Oriental buffet eatery in the area.
Customers come from all over the area to sample the dazzling array of Oriental and American dishes served on Golden China Buffet's five buffet bars. To better cater to local palates, the restaurant's traditional Chinese offerings have also been slightly modified. Americanized but still uniquely Chinese in flavor, most of the dishes are either stir-fried or grilled in order to maintain their taste while still being healthy. All of the sauces are made according to chefs' special secret recipes and they try to avoid using canned food and artificial coloring at the utmost.
Golden China Buffet's most popular buffet offerings are Sesame Chicken, Stir-fried Rice Noodle, and Egg Rolls. But while some restaurants may only offer a limited range of dishes, Golden China Buffet instead touches on every branch of Chinese cuisine by incorporating dishes from throughout China. "We have all kinds of flavors including spicy and sweet, but most of the dishes are lightly flavored. Golden China Buffet also has a lot of Latin-American and American Indian customers, so we decided to also adapt our dishes to their tastes. After repeated attempts, the experienced chefs eventually created a special homemade chili sauce just for them," the manager Eva Zheng says. Curry Chicken, another popular dish, was launched recently and has quickly become one of the more popular offerings. Other well-received dishes include Japanese Sashimi, California Roll, Egg Custard Tart, Crab Legs, and Spareribs.
It's a fact that keeping everything fresh is a challenge for most buffet establishments. However, Golden China Buffet has a system in place that guarantees freshness. It all starts with the strict standards that the restaurant has in place for all the raw materials it receives. These standards also extend to food storage. Communication between waiters and the kitchen staff is also emphasized, because dishes are made according to the amount of customers in the restaurant and their preferences. Last but not least, waiters always keep an eye on the buffet bars. "We discard anything immediately if it's not fresh enough to be presented to our customers," Eva promises.
As for the décor, Eva decided to keep the ambiance as low key as it was before. Its warm lighting scheme creates a homey atmosphere and really enhances the aesthetics of the space. She is a person who also emphasizes strong family ties. Thus, she has done everything in her power to provide customers with a family friendly environment.
Eva knows that it's important for parents choose the right kind of restaurant when dining out with kids. In 2010, she set aside a special corner in the restaurant, which she names it "Kid's Land", fenced in for her little customers. Kids are in their seventh heaven, playing toys, watching TV programs and drawing pictures there while the parents are enjoying dinner. To Eva, this means creating a comfortable and warm dining ambiance for customers so that they can fully enjoy the delicious dishes.
Every day, the chefs work diligently to create delicious buffet offerings while the waiters help bring these enticing creations out to the buffet, take drink orders, and do whatever else they can to make each customer's experience a pleasant one. Golden China Buffet is first on everyone's list of great restaurants because of its quality and service. "The servings are generous and I usually get more than one meal, whether I choose dine-in or take-out," says Chale, a loyal customer who dines at the restaurant at least twice a week. Like the other regulars, Chale looks forward to each visit. They are very glad that they've discovered this gem and intend to dine at Golden China Buffet for years to come.
Golden China Buffet never stops upgrading itself. Eva Zheng realizes that allowing for the website to be found on the Internet will give her an advantage over the competition and a more convenient way to communicate with her customers. No hesitate to go to the website www.goldenchinalawton.com to find out more about the restaurant, and of course, you are more than welcome to leave comments on Golden China Buffet.

-----------------------------------
Name: Golden China Buffet
Phone: 580-248-9889
Location: 2512 Northwest Cache Rd. Lawton, OK 73505
Offers: Buffet, Dine-in, Take-out, Delivery