King Buffet
Location: 3834 E Broad St. Columbus, OH 43213
Phone: 614-338-8880
Offers: Buffet, Take-out, party room
Cuisine: Americanized Chinese cuisine
Signature Dishes: Black Pepper Chicken, Spicy Chicken, Wor Su Gai
Year of Establishment: 2003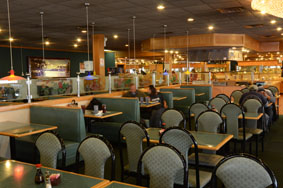 Residents in Columbus, Ohio appreciate the Chinese cuisine offered at King Buffet. Located 20 minutes drive away from downtown, the restaurant has a whopping 9000 square feet of space, allowing it to accommodate over 200 guests at a time. Far above your average buffet fare, King Buffet boasts eight buffet bars with a smorgasbord of selections that will have you coming back for more.
When you enter King Buffet, you will feel like you just stepped into a restaurant located in Eastern China. Here, the culture and history of the land is represented through the interior where you'll find Chinese decorative paintings. The owner, Jianhui Dong, decided not to go for an ostentatious visual presentation and instead decided to highlight the food through opting to go for a simple interior design scheme. The lively atmosphere is further balanced by soothing Chinese classical music playing in the background and bright lighting.
The Chinese identity is further embodied in a plethora of Chinese culinary delights. With over 100 palatable dishes that can be scooped up from the overflowing buffet bars, the food at King Buffet is refined American Chinese with a splash of Western cuisine. The buffet varieties, including Americanized Chinese dishes, sushi, pizza, salad, and fruits are bound to appeal to all types of food lovers; however the main attraction is still the Chinese specialties.
Black Pepper Chicken, Spicy Chicken and Wor Su Gai are some of the crowd pleasers. The Black Pepper Chicken is an awesome dish comprised of lightly battered chicken chunks, green pepper, onion, dried red pepper and then sautéed in black pepper sauce which gives the dish a pungent yet not overwhelming taste. Patrons looking for something along the lines of fried chicken but with an Asian twist will be awed by King Buffet's Spicy Chicken which is made using jalapeno and oyster sauce among other enticing ingredients. The batter-coated and deep-fried Wor Su Gai is also a hit with the customers.
Sushi is also available here at King Buffet. Although the buffet only includes varieties such as shrimp, crab meat, mackerel and salmon; each creation is a piece of edible art, varying in its presentation and taste.

Food freshness is one of the hardest parts of running a restaurant and can be a real headache for restaurant owners. Any misstep may ruin the dish as well as the dining experience. Customers never need to worry about the freshness of food at King Buffet because Dong strictly controls the ingredients the kitchen use and the food presented on the buffet bars. Buffet items are replenished frequently and the buffet tables are maintained in an appetizing and safe manner.
"Senior citizens are especially catered to when dining in our restaurant. We are concerned about our customers' health, that's why we are so particular when it comes to purchasing ingredients," Dong explains.
Perhaps restaurateurs take it for granted that the 'customer is king' yet don't always act upon that catchphrase. In any business it is blatantly apparent that performance is linked to customer service for without the customers there is nothing to measure— from profits to efficiency. At King Buffet, service is directly linked to overall performance. They stress that a customer's first impression is based on the quality of service. Their impression will determine whether they return or not. Dong is proud to point out that his staff—from the waitresses to the chefs, is fully dedicated to excellent service.
Opened in 2003, King Buffet has gone through hard times but has still managed to survive through the darkest days of the economic downturn by virtue of its great food. Not one who rests on his laurels, Dong has continued to improve the food quality and service, in the hope of bringing in more customers and turning his buffet into one of the region's most popular restaurants. Judging by how packed King Buffet is during its peak hours, Dong seems to be well on the way towards this goal. Customers won't have to break the bank either when dining there. Priced at only $5.99 for lunch and $8.50 for dinner, King Buffet is quite a bargain.