Asian Garden
Location: 124 West St. # 5,Ware, MA 01082
Phone: 413-277-0725
Offers: Dine-in, Take-out
Cuisine: Chinese Cuisine
Capacity: 40
Signature Dishes: Sweet & Sour Chicken, Seafood Bird's Nest, Seafood Deluxe, Four Ocean, Lo Mein, Pad Thai, Green Curry with Prawns, Panang Beef Curry
Year of Establishment: 2010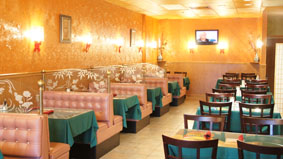 With the economy recovery beginning to pick up momentum in late 2010, things are looking good once again for the restaurant industry. Gone are the gloomy days; instead, restaurant owners are optimistic once again and looking forward to the future. This recovery has also brought with it a number of new entrants into the restaurant industry. One of these new entrants, Asian Garden, is owned by Johnny and Elaine Huynh who decided after much deliberation to open an Asian fusion restaurant in Ware, Massachusetts.
Located in rural Springfield, Massachusetts, Asian Garden is a charming little restaurant with stylish decorations, warm lighting, and soothing music. Stepping into the restaurant, patrons immediately notice the calming interior. The restaurant features a warm orange and creamy yellow color scheme. It is furnished with elegant dark red wooden chairs and greenish blue table-cloth covered tables and booths. Some elements, such as the green bamboo plants are added to create a more animated and welcoming dining area. Despite its beauty, the real highlight of Asian Garden is how the dining and kitchen areas are always spotlessly clean.
Asian Garden's lengthy menu lists a repertoire of food stretching across the culinary spectrum, including many Chinese classics, and even ethnic Vietnamese and Thai dishes. Besides the usual entrées like lo mein, chow mein, fried rice, Sweet & Sour Chicken and Kung Pao Chicken—the menu also features some innovative items that will surprise and invigorate patrons. The Seafood Bird's Nest is a different interpretation—a combination of shrimp, scallop, lobster, water chestnuts, broccoli and snow peas served on a bed of rice noodles, which looks just like a "bird nest." Another crowd pleaser is the Four Ocean, a light-flavored dish incorporating many seafood varieties into a bowl crowned with an assortment of vegetables.
Customers are always looking for new tastes and flavors. They tend to seek something more exciting than the usual traditional dishes. Fusion cuisine came into being and brought a unique cooking style to thousands of kitchens across the globe. Asian Garden carries exciting fusion cuisine and a bevy of ethnic offerings.
"There usually isn't much different in terms of taste between one restaurant and another but here at Asian Garden we do things differently by striving to prepare dishes with an extra element of flavor," says Johnny.
Asian Garden is definitely doing things in a different way, as Johnny is constantly coming up with new inspirations including adding a number of Thai and Vietnamese to the restaurant's menu. Exotic fresh herbs and spices such as kaffir lime leaves, bell and red peppers, lemongrass, cilantro, red onion, garlic, Thai chilies, oyster sauce, coconut milk and sweet soy sauce are common in Thai cuisine, especially in Thai curry dishes. The curries are matched with different dishes offering a plethora of aromas, tastes, and levels of spiciness. The Green Curry with Prawns ($9.95) and Panang Beef Curry ($8.95) are among the highly-acclaimed dishes. These dishes can be found at many restaurants, but the versions prepared at Asian Garden are even more jam-packed with flavor due to the chef's masterful use of curry and coconut sauce.
Don't forget the Vietnamese offerings! The fresh spring roll, tasty Pho Tai (tasty soup with rare steak, and fresh rice noodles), Pho Bo Vien (Soup with tender beef meatballs and rice noodles), and Bun Bo He (Hot and spicy lemongrass soup with chicken or beef) are some of the strongest items on the menu.
The recent healthy dining trend has restaurants everywhere scrambling to make changes to their menus. Some make small changes while others go all out. Asian Garden is one of those restaurants that have gone all out through significantly improving their menu. They insist on only choosing the freshest produce available and have also started serving a large variety of steamed vegetables that are low in sodium and oil. Dishes are also served with light sauce on the side so that patrons can have further control over what they take in.
"Sales at Asian Garden began to pick up since it first opened, in part because of the efforts of the whole staff and the support of our customers," explains Elaine.