China King Buffet & Grill
Location: 13220 N Pennsylvania Ave. Oklahoma City, OK 73120
Phone: 405-751-9888
Offers: Buffet, Take-out
Cuisine: Americanized Chinese cuisine
Signature Dishes: General Tso's Chicken, Salt & Pepper Shrimp, Crab w. Ginger and Scallion
Year of Establishment: 2009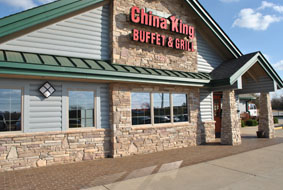 Hungry for some delicious Mongolian BBQ? Even if Mongolian BBQ is not your favorite, you are bound to find something tasty at China King Buffet & Grill. Take a trip to Okalahoma City, a place known for its vibrant dining scene and treat yourself to something special. China King Buffet & Grill is one restaurant there that has distinguished itself from its competitors by offering high-quality food, attentive service, and a comfy dining environment.
The restaurant is located in a busy area that is easily accessible and offers ample parking. Taking up over 12,000 square feet, China King can accommodate up to 400 guests. With so much space, it is an excellent choice for families or groups. You can either throw a party here, or hold a meeting in the well-equipped party room.
The interior is decorated like other buffet restaurants that can be found in the area, featuring a yellow creamy color scheme and soft lighting. When planning the design, Weng was not interested in anything very fancy. Instead, he decided he wanted to create an atmosphere that was cozy and homey. He also wanted to fill the restaurant with Chinese inspired art and culture, such as Chinese-inspired landscape paintings, and decorative Chinese knots. Ambiance is further augmented by the soothing lighting and lingering music that flows in the restaurant.
With over 200 items on their nine buffet bars, China King Buffet & Grill definitely has something for everyone. You can order steak and Mongolian BBQ from the menu or try the Americanized Chinese offerings. If that isn't enough, you can go for some other items including sushi and even pizza to satisfy your needs. General Tso's Chicken is far and away the most popular Chinese option. Following closely behind in second place is Salt & Pepper Shrimp, with Seafood Delight coming in third. There is a separate buffet bar that offers salad, dessert, fruits, pudding, pie, doughnuts and ice cream to those customers seeking a well-balanced meal. Those with a yen for healthy food will be happy to hear that all of the seafood and vegetable dishes are steamed. There are also some grilled dishes for hardcore foodies.

China King's chef works hard to come up with new inspirations by experimenting with recipes and flavor combinations. The Seafood Bread is one of the favorites that Weng would like to recommend. It is a delightful dish consisting of crab meat, cheese, and mayonnaise that is baked in an oven then covered with an alluring homemade sauce.
The Crab with Ginger and Scallion is another crowd pleaser among a variety of delicious dishes. What makes this dish unique is its tasty sauce which is a combination of oyster sauce, sesame oil, sugar, and Kikkoman soy sauce. The crab meat is then sautéed with a blend of sauces and a dash of ginger and garlic.
The kitchen at China King is also top-notch when it comes to the freshness of food and ingredients. The kitchen staff makes sure that they choose the highest quality food available and checks the produce shipments carefully to confirm that the food quality is up to par.
"The chef has decades of experience, and he knows how to pick the best produce," says Weng.
China King Buffet & Grill is like three restaurants under one roof. Offering a myriad of delicious buffet items that will delight patrons again and again, China King is great for families or large parties because of its wide range of buffet offerings and menu items. Weng's dedication to taste, variety, and innovation has endeared China King Buffet & Grill to the people of Oklahoma City. Aiming to serve even more fans of Chinese food, he plans to open up several more locations in the next several years.