Fortune Buffet
Location: 6121 N Clinton St. Fort Wayne, IN 46825
Phone: 260-484-5000
Offers: Buffet, Take-out
Cuisine: Americanized Chinese Cuisine
Signature Dishes: General Tso's Chicken, Beef w. Broccoli, crab Rangoon, Black Pepper Chicken
Year of Establishment: 2008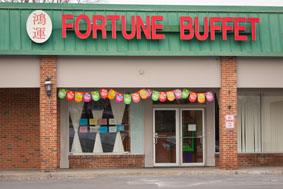 A truly surprising and inspiring city, Fort Wayne, Indiana is home to the Fort Wayne Children's Zoo; world-renowned Vera Bradley bags, and DeBrand Fine Chocolates. With a population of 200,000, there are thousands of people walking around, shopping and enjoying their lives. Naturally, Fort Wayne has a well developed dining scene providing the residents with plenty of choices when they are feeling a bit hungry. Yet even with all those choices, those near North Clinton Street will head to Fortune Buffet. Known as one of the best buffet restaurants in Fort Wayne, Fortune Buffet features an array of Hunan, Szechwan, and Mandarin selections in a casual contemporary ambiance. The food is excellent with over 60 items to choose from.
Gorgeous Oriental Decor
The owner, Guorong Jiang, wanted this establishment to be different from all the other Chinese restaurants in town. So, he worked with an interior designer to come up with a design that wouldn't be steeped in the usual traditional Chinese look but also wouldn't be too neutral. In the end, he chose to include traditional Chinese furniture but wanted to create a relaxing environment for his customers. Finally after much thought, he chose a innovative color scheme that incorporated deep mocha, red maroon, blueish green, and brownish yellow together to create a fresh and contemporary atmosphere where diners would be able to relax as they sip a hot cup of green tea. For the tables, there are two print surfaces: Chinese calligraphy and landscape paintings. Contemporary Chinese artwork with vibrant colors and simple elegant brushstrokes hang from the walls adding an alluring flair to the buffet's contemporary ambiance.
Buffet Bars Packed with Selections
Variety in food also helps to attract a variety of people. Jiang hires chefs who can cook both traditional and Americanized Chinese cuisine, including some hard to find specialty dishes. General Tso's Chicken, Beef w. Broccoli, Crab Rangoon, and Black Pepper Chicken are among the most popular selections. The well-known buffet has an extensive soup and salad bar, a prime rib counter, sushi corner, and a variety of hot foods showcasing the best in Chinese-American fare. An array of desserts and an ice cream sundae bar make the perfect end to any meal. Take-out and delivery are also available.
There are 6 buffet bars featuring all different types of food. One is a salad bar while the rest of the bars are devoted to traditional Chinese food. In addition, the chefs at Fortune Buffet make sure to go out their way to prepare healthy dishes and do so by reducing the oil in those dishes while only using zero trans fat vegetable oil in their preparation. One way to accomplish this without sacrificing taste is steaming vegetables before stir-frying. The well-trained chefs cook everything in small batches so that customers can always enjoy fresh food.
Best Food Quality Accompanied by Good Service

Fortune Buffet was opened by Mr. Jiang in 2008. From day one the emphasis has been on ensuring excellence in everything from food prep and cooking to the service. Its two goals—fresh food and hospitable service sound simple, but there is actually a lot of work that needs to be done in order to continue to exceed customers' expectations day in and day out. "We strive to keep our customers happy and satisfied," Jiang says. "I try to talk to as many customers as I can about what they like and dislike, and use their feedback to improve ourselves."
The service here is always excellent because everyone at Fortune Buffet truly cares about each customer. Besides smiling service, the wait staff makes sure that plates are always cleared as soon as patrons are ready for another round. They also refill the food at each food station in an amiable and brisk manner. Buffet patrons are looking for a mountain of fresh and high quality selections in a clean and cheerful atmosphere. Fortune Buffet does that and takes the extra step of offering great service in a soothing environment.