Attractive to All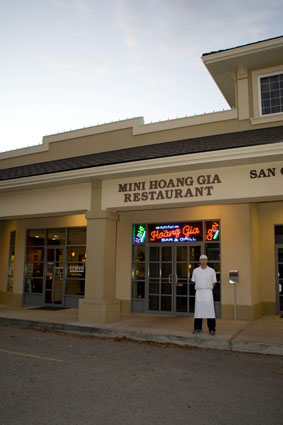 Kelowna is the largest city in the tourist-oriented Okanagan Valley, which is located in the British Columbia Southern Interior. The city has many attractions that will satisfy young and old as well as extreme thrill seekers.
The inhabitants of Kelowna are lucky to have Mini Hoang Gia, a small but quaint eatery offering premier Japanese cuisine, classic Vietnamese food, and a few Chinese favorites, all under one roof in the conveniently located Glenmore Plaza.
Many patrons wonder what 'Hoang Gia' means. Hoang Gia, in English, means "the Hoang family." Kien Hoang, the owner, opened Hoang Gia, a full size restaurant in another location of Kelowna, eight years ago. It was the first and still is the only restaurant in town which offers authentic Vietnamese cuisine year-round. Mini Hoang Gia, launched in September, 2010, is a mini version of Hoang Gia with less seating, but the same type of menu.
This outstanding restaurant has grabbed the attention of both local and national media. Mini Hoang Gia is a perennial winner at the Okanagan Life Magazine Editor's and People's Choice Awards. In 2010, Mini Hoang Gia was honored with the Top 100 Asian Restaurants (Dining Excellence) award in the 7th Annual Top 100 Chinese Restaurants in the USA Competition organized by Chinese Restaurant News.
Above all else though, Mini Hoang Gia wins customers over with its home-style Vietnamese cuisine, which is rare in the area. Kein Hoang states that Vietnamese cuisine has elements in common with both Chinese and Thai cooking and is famous for its lively, fresh flavors and artfully composed meals. At Mini Hoang Gia, diners call for soup, grilled beef or poultry, stir-fried vegetables, and rice noodles. All-time favorites include Vietnamese Rolls, Grilled Pork, and Beef Noodle Soup.
Mini Hoang Gia also cooks up delicacies from around Asia. Some of the non-Vietnamese chow includes sushi, rolls, and chow mein. Japanese food is known for its light taste and healthy preparation methods. The top seller of the Japanese-influenced items according to the owner is the House Special Roll, which is a roll featuring cucumber, avocado, scallops and shrimp. "It's just one of the many crowd pleasers we have here among our Japanese selections," Hoang says. Mini's menu offerings are updated as needed in order to keep up with the current healthy dining trend. It is quite apparent upon walking into the restaurant that the focus is on satisfying everyone's cravings. Customer response to the menu tweaking has been overwhelmingly positive. "We've had a lot of customers tell us they are impressed by our dedication to keeping up with new culinary trends," Hoang boasts.
Getting involved in the restaurant industry is challenging as the market is saturated. However, Kein Hoang is still optimistic and believes that a restaurant that churns out delicious dishes always has a good chance against its competitors. Vietnamese and Japanese cuisine relies on fresh vegetables and subtle seasonings. And so fittingly, Hoang makes sure to choose the produce and ingredients himself so as to ensure the highest quality possible. Hoang is there most mornings making sure that all the deliveries from his trusted grocery suppliers arrive in time.
Customers always come first! Being greeted with a smile is what any customer would expect. They'll find that at Mini Hoang Gia, where there is always three well-trained wait staff manning the front and at least four chefs run things in the kitchen. Everyone there knows what he/she needs to do to keep the wheels running efficiently.
Overflowing with passion and ambition, Kein Hoang is considering opening a third location by the end of the year. He believes the market for authentic Asian cuisine has shown great potential and hopes the expansion of his business will allow him to bring more authentic Asian delicacies to foodies throughout British Columbia.


--------
Name: Mini Hoang Gia
Phone: 250-448-6840/ 762-9818
Location: 1940 Kane Rd, Kelowna, BC V1V 2J9