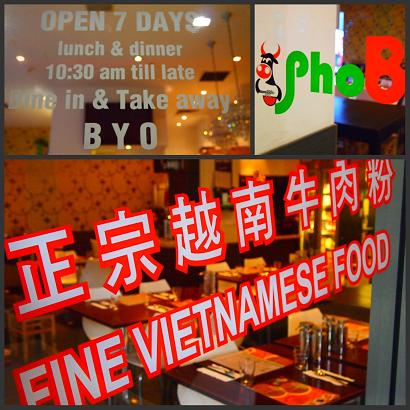 Pho is the name card of Vietnamese cuisine, and it has made its way from Vietnamese kitchens into the mainstream spotlight at a rapid pace. Pho's distinct flavor and wide use of healthy ingredients have enabled the dish to shatter cultural and geographical barriers, making it a popular dish across the globe. Nestled in Fortitude Valley, Queensland, Pho B Vietnamese Restaurant has brought this quintessential dish as well as traditional Vietnamese cooking to a wider populace of Queensland.
The restaurant is not overly-decorated or fancy; its simple colour scheme and soft lighting are designed to give customers a casual and welcoming feel.
Creating affordable yet delectable food is the main focus at this no frills eatery. Manager Rebecca Tang strongly recommends Pho, one of the specialties provided in the restaurant. This Vietnamese Beef noodle soup has all the qualities a health-conscious foodie would look for—a fresh, natural and well-balanced meal that is sensationally delicious. Rebecca's version certainly delivers on taste. When preparing this dish, she simmers the beef bone as a soup base, tosses some rare beef slices into the soup and later garnishes with bean sprouts and vegetables. "Very delicious," some customers comment, raising their thumb up.
Needless to say, Pho B moves beyond just offering Pho. The restaurant features a wide selection of menu items stretching across the culinary realm, successfully combining different culinary disciplines together with a modern and creative twist. One example is the Red Curry Lychee King Prawn. What makes this dish special is an artistic mix of lychee juice and red curry, which make for a perfect match. The sweetness of the lychee juice is infused into the spicy red curry to create a creamy layer of texture. The end-result is an interplay of spiciness and light sweetness when you indulge in the fresh, succulent king prawns.
Another unique creation is the Sensational Crispy Batter Duck in Ginger Plum Sauce with Seasonal Vegetables - a Chinese version of crispy duck drenched in plum sauce and mint leaves. An assortment of vegetarian dishes is also available, which cater to vegetarians and the health-conscious alike. One of Rebecca's aims is to deliver a healthy and nutrition-balanced meal, which is embodied in the Claypot Mixed Mushroom with Tofu dish. This is infused with ginger and scallion, a dash of oyster sauce and a sprinkling of Shaoxing rice wine, resulting in an exotic burst of flavour despite its humble ingredients.
Aside from its innovative way of preparing delectable offerings, the restaurant has always relied upon their "commitment to consistency, speed and affordability." According to Rebecca, "speed is critical as our restaurant is the casual restaurant, and we always guarantee the orders are served within 10 minutes."
This is one of the many reasons why customers patronize the restaurant so often. With regards to customer service, the restaurant keeps focusing on increasing the "value of experience", and "meeting the customers' requirements."
"We need to continuously provide a positive experience for our customers both in terms of value for money and other factors", said Rebecca.
Message from the Owner
I love cooking and I want to bring the authentic Vietnamese home cooking concept to the community, along with my passion about cooking. Pho B is where I do this and I cook for my customers as I do for my family members. For me it is very important to choose fresh produce, so I try to imbue the full spectrum of my culinary knowledge into each dish I prepare.
Pho B Vietnamese Restaurant
Location: 28 Duncan St. Fortitude Valley, QLD 4006
Phone: 07-3852-2889
Offers: Dine-in, Take-out,
Cuisine: Asian Fusion Cuisine
Capacity: 100
Signature Dishes: Vietnamese Beef Noodle Soup, Red Curry Lychee King Prawn, Sensational Crispy Batter Duck in Ginger Plum Sauce with Seasonal Vegetables, Pho B Gourmet Chicken on Mint Leaves
Year of Establishment: 2008