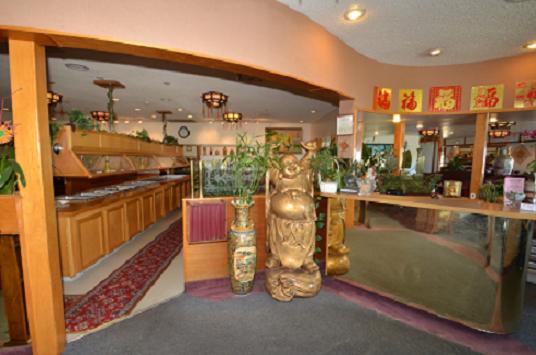 Owner Karl Yang opened Lum Yuen in 1998 with the purpose of bringing authentic Chinese cuisine to the people of Albany. In an effort to show area foodies that he was serious about doing so, he opted to have a stone lion placed near the entrance. Fierce yet dignified, the lion is a traditional Chinese symbol that hints at Yang's ambition.
Lum Yuen is able to seat up to 500 people in its 9,000 square foot interior, which includes a private party room that can seat up to 200 people. After opening, it quickly took the local dining scene by storm and the seats began to fill up immediately. Known for its generous offerings and exceptional customer service, Lum Yuen even attracts customers from afar who fly into the neighboring airport and taxi their planes right near the end of the restaurant's parking lot.
The menu offers Szechuan dishes and Americanized Chinese favorites but is more focused on Cantonese cuisine. Unlike some restaurants where the food is cooked out of the view of customers, Lum Yuen customers can see dishes being prepared right in front of them. One dish, Three Ingredients, on the menu includes scallop, shrimp, fish, mushrooms, radish, and celery. Those ordering it will be treated to an amazing visual experience as they see the ingredients being prepared and cooked together right in front of their eyes. The sizzle and crackle along with the mouthwatering aroma tends to grab the attention of other diners in the restaurant. It is common to see people at their tables peering over to take a quick glance at the beautiful smelling dishes passing by.
Popular dishes at the restaurant include Spicy Salt Shrimp, General Tso's Chicken, and Cashew Nut Chicken. Those who have never tried Lum Yuen's version of these popular dishes will be amazed by their unique taste. "If the ingredients aren't fresh, the dishes won't taste as they should," Yang explains. He makes sure to shop around and compare food vendors, while never sacrificing on freshness just to lower his cost. He also never orders more than what is needed so that ingredients don't sit in the refrigerators for too long. Food deliveries are made daily and are inspected before they are signed for. This approach to freshness brings out a stronger flavor in dishes that diners can taste after the first bite and is part of the reason why Lum Yuen is one of Albany's most popular restaurants. Other local favorites on the menu include the Lum Yuen Special Fried Rice, Honey Walnut Shrimp, Lum Yuen Special Lo Mein, Wor Won Ton Soup, Mongolian Beef, and Kung Pao Chicken. New dishes like Green Bean Chicken and Green Bean Beef are quickly becoming customer favorites.
Of course, besides just providing great food, restaurants have to go the extra mile in order to be competitive in today's shaky economy. So in order to keep Lum Yuen at the forefront of Albany's dining scene, Yang has introduced daily specials while also preparing dishes in a healthier manner. Customers can receive a discount on their birthdays and those holding parties at Lum Yuen enjoy the extra touch of having the party room decorated beforehand and they also receive small gifts. Yang even sends out appreciation cards to his customers as a way to show his gratitude for their business. This considerate service is one reason why many choose to hold their gatherings at Lum Yuen.
Cleanliness is something that every customer looks for but might not be present in every restaurant. Luckily, Lum Yuen has never had a problem with cleanliness due to Yang's approach to keeping the restaurant clean. He has made sure to train the staff to clean the restaurant each day before it opens, while also keeping an eye out for any issues during business hours. Each staff member systematically goes through the restaurant checking to make sure that every nook and cranny is clean and presentable.
You may be surprised to know that there are six chefs cooking and preparing the food at the restaurant at all times. Chefs usually have their own style of preparing food and it can be a challenge to insure flavor consistency. However, each chef goes through a 2-3 month training period before they are formally added to the cooking team. On top of that, Yang, who himself is a chef, makes all the sauces each day before the restaurant opens. While this may be time consuming and increase costs, it also means high quality which is more important to Yang. "The customers love the sauces. I make the sauces each day so that nothing sits over night," Yang boasts. Teamwork is also important to Yang and he makes sure that the chefs act as a team instead of isolating themselves. This approach has worked well and the chefs enjoy working together, even eating meals as a group after work. During these meals they discuss areas that can be improved and also make sure to remind each other that during their busiest hours of cooking, they should always stay calm, communicate, and stay on task.
At Lum Yuen, the customer is always right. The wait staff is trained to be friendly with customers and to always offer quick and efficient service. They smile at every customer and go about their work in a cheerful manner while making sure to always refill glasses and be nearby just in case a customer needs them. "I always tell them that they should be attentive without being intrusive," Yang adds.
Behind the Scenes
Yang arrived in the US in 1984 to study. At that time, his brother and father already had their own Chinese restaurant. Since he was new in the country, he spent much of his time with his father and brother. When he wasn't in class, or at home studying, you could find him at his family's restaurant helping out. After working there for a while Yang began to realize how much he enjoyed the restaurant environment and felt that the restaurant industry was for him!
Years later, after gaining enough experience, he began to think about opening his own restaurant. With the support of his friends and family he opened Lum Yuen, but things didn't go as smoothly as he had planned. After opening Lum Yuen, Yang faced a lot of unexpected challenges. He had to not only make sure the food was outstanding but also had to manage the employees and attend to other issues associated with running a restaurant. This was very stressful, however he still maintained a positive attitude and helped to give his employees confidence while solving the myriad of other problems that arose at the time. "I was stressed out but I always respected my employees because we are team," Yang explains. When he came across an issue he wasn't sure how to resolve he would ask his brother for advice. Also of great help at the time was his wife who encouraged him and stuck by his side. The support of his wife, daughter, and brother helped him through this difficult time and allowed him to turn Lum Yuen into what it is today——a success!!
LUM YUEN
Location: 1236 Price Rd. SE, Albany, OR 97322
Phone: 541-928-8866
Offers: Dine-in, Take-out, Party Tray
Cuisine: Cantonese Cuisine, Szechuan Cuisine
Signature Dishes: Three Ingredients, Pepper Salted Shrimp, Kung Pao Chicken, General Tso's Chicken and Cashew Chicken
Year of Establishment: 1998