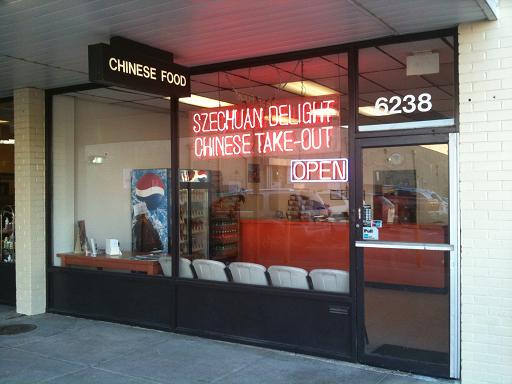 Located amidst several residential areas and commercial areas in Alexandria, Virginia, Szechuan Delight sure pulls in a crowd. Serving Chinese food, mainly Szechuan cuisine, Szechuan Delight outshines its competitors by offering healthy food, good service, and a cozy environment. Despite the name, the menu not only covers Szechuan dishes, but Cantonese and Hunan as well, and even Americanized Chinese food, drawing local residents and visitors from all around the world.

The key to success for a restaurant, first of all, is offering delicious food. Szechuan Delight pays great attention to the materials, on top of serving tasty meals. Tom Chee, the owner of Szechuan Delight goes to the markets in person to make sure the food materials are fresh and of high quality. To standout amongst the competition, Tom Chee follows his own principle——quality is the soul of offering food. Unlike others, he insists on using the chicken breast, the best part of a chicken, as a main ingredient to ensure dishes are palatable. In addition, sanitation is another of Tom Chee's main points of emphasis. He knows that keeping the kitchen clean is a must in order to prepare safe, tasty dishes. For the menu, Szechuan Delight features in General Tso's Chicken, Szechuan Chicken, and Rice Noodle Singapore Style. Though the menu has not changed much since its opening, customers still come in an endless stream. They get accustomed to the flavor here, and would prefer that things stay the same. Naturally, there are a number of healthy dishes on the menu, free of oil and MSG, but still packed with taste. What's more, vegetarians can also find something for themselves in Szechuan Delight. Focusing on healthy food, the restaurant and its staff have been working hard to cater to various customers.

Customers can choose to sit on chairs and wait for their dishes to come out or watch the chef cooking. Standing next to the cash register, customers have a clear view of the chef preparing the dishes, helping alleviate any possible concerns about food sanitation. Even though Szechuan Delight has been open for almost twenty five years, it is always kept clean and tidy, adhering to strict standards.

Last but not least, Szechuan Delight has been keen on good service. The staff members are friendly and efficient with their big smiles and prompt action. Being attentive without being pushy, they always serve customers in a cheerful manner. For new customers, they recommend popular dishes while for regular customers, they remember their usual orders. Regular customers get along well with the staff, and every time they choose to order from Szechuan Delight, they are served like family. In regards to his regular customers' support, owner of Szechuan Delight Tom Chee expresses his deep appreciation. Also, he hopes that more new customers will come and have a try. Furthermore, being a take-out restaurant, Szechuan Delight boasts fast service and speedy delivery. Usually, orders are ready for pickup within 15 minutes. For delivery, Szechuan Delight promises that the delivery will reach the customers within 45 minutes depending on delivery distance. It is often the case that the delivery time is far less than 45 minutes.

Whether seeking convenient take-out or efficient delivery, customers will find Szechuan Delight quite competitive due to its high quality and fair prices, reliable delivery, and hundreds of choices. Trust is the vital factor in business. Looking more to provide delicious food instead of making money, Tom Chee makes his own way to earn the trust of his patrons. Sticking to high quality food and satisfactory service, Tom Chee beats other restaurant owners with his sincerity and focus on really catering to each of his regular patrons. Moreover, word-of-mouth helps to bring in new patrons, which is a pleasing cycle often seen among popular restaurants. As for staff management, he creates an equal and harmonious working environment. Everyone helps each other out when the need arises leading to high morale and a more efficient team. Constantly found helping in the restaurant, Tom Chee is respected by his staff. Just like living with family, his staff enjoys working and interacting with each other at Szechuan Delight.

The success of Szechuan Delight has roots in the owner's past experiences. Thirty years ago, before coming to the United States, Tom Chee was in Hong Kong working as a chef. After immigrating to America, he found work at restaurants. He has even worked as a chef and a waiter, helping to lay a solid foundation for his opening of Szechuan Delight. His father was also in restaurant business, which influenced him greatly and eventually led him to enter the restaurant industry. Although the United States hasn't recovered from the economic depression, Tom Chee still holds an optimistic attitude towards the Chinese food industry. Trusting in Szechuan Delight's gaining momentum; he is considering setting up another restaurant of larger scale.

Established in 1987, both locals and those passing through have been counting on this enchanting place for over twenty years. Szechuan Delight has been committed to providing outstanding food with reasonable prices, and excellent service. Next time you feel like having some Chinese food, consider trying Szechuan Delight as the dishes are bursting with flavor and worth every penny.
Szechuan Delight
Location: 6238 Little River Tpke. Alexandria, VA 22312
Phone: 703-354-0005; 703-354-0006
Offers: Take-out, Delivery
Cuisine: Chinese cuisine
Signature Dishes:General Tso's Chicken, Szechuan Chicken, Rice Noodle Singapore Style
Year of Establishment: 1987
Website: http:// 703-354-0005.chinesemenu.com;
http://szechuandelight.chinesemenu.com